Welcome to Jasmine Alexa. We make refined and considered leisure wear. Inspired by our active lifestyles. Designed so you can set your own pace.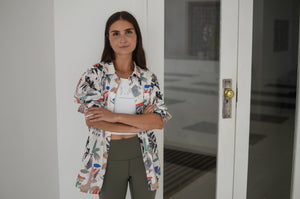 "Jasmine Alexa is more than just a clothing brand. We are a community. That's why I started 'This is me' - our social platform to start the important conversations about mental health and wellbeing." - Jasmine, Founder & Designer
This is me.
Tips and tools to support your mental, emotional and physical wellbeing.
Whether it's in your personal or professional life, setting your own pace means doing things at your own speed, on your own terms, and in a way that feels true to yourself.
Shop Instagram
@jasmine.alexa
"Jasmine Alexa allows you to wear activewear all day without compromising on aesthetics."
"I am so in love with all my new JA goodies. They feel incredible, and look so good on. They make me feel sexy and elegant while being super comfortable and ready for whatever the day calls for."
"It is so special knowing the woman behind it all is pushing conversations we all as women need and also creating something that allows any single woman to feel so powerful"
Join the journey
Sign up to receive 10% off your first order,
plus be the first to know about exclusive offers and all J.A news